CIB, Multichampion, Nordic CH, BISS SE VCH
DK JV-21, FI JV-21,
Nord JV-21
Swedens TOP winning Ridgeback 2022 and 2023
African Hunter´s Fairy Tale ByLeilo
DK Ch, Ch CH, SLO Ch
Club E.L.S.A Ch JCH Club and Jch VDH
Ulwazi´s Born to Run Bowie

Sex

Bitch

DOB

2020-07-17

Regnr

SE46152/2020

Hight

64cm

Weight

37

Hips

A/A

Elbows

0/0

Genetic
analysis

JME clear
MH clear
DM clear
HemB clear
EOAD clear
RidgeP R/r
D-locus D/d1
B-locus B/bs
LTV Clear

Gunsshot prof

Dental Status
MH/BPH

Yes

correct sissorbite
Full dentation
Yes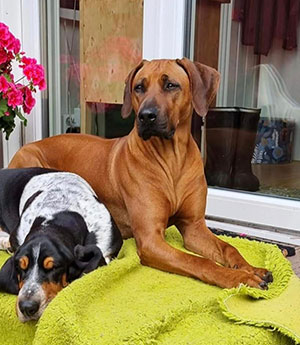 Sex

Male

DOB

2017-01-09 (export Germany)

Regnr

NO32393/17

Hight

69cm

Weight

44

Hips

A/A

Elbows

0/0

Genetic
analysis
and tests

JME clear
MH clear
DM N/DM
HemB clear
EOAD clear
RidgeP R/R
D-locus D/D
B-locus B/B
Heart ultrasound ClearIVA N/N
Spondylosis Free
Thyroid Clear
LTV 2

Dental Status
MH/BPH

correct sissorbite
Full dentation
Yes

Marie Burkhardt about Bowie:
In Sweden we have a word called "lagom" which means, just the right amount, or without exaggerations and Leilo is just that when it comes to hunting, guarding, energy and anatomy. She won her Swedish championship in blood tracking after three straight first prizes and according to the judges she possesses an outstanding tracking capacity.
Despite this, we can have her loose in the woods and fields and we never feel worried that she will chase after wild animals.
She is increddibly loyal and always willing to please you.
She is very frendly and lovable towards all people but she wouldn´t hesitate for a second if she needed to protect her family. She loves children of all ages and she likes to curl up on the couch and cuddle with the the family.
She has a clear on and off switch.
When it comes to exibition, Leilo is exceptional!!
She is Swedens most successful Riddgeback both in year 2022 and 2023.
She has total balance in her body and breed specialists from all over the world have praised her outstanding movements.
She is a powerful bitch with a lovley bonemass but at the same time very feminine overall.
She loves to run and showoff in the ring and even in pouring rain and bad wether, she always does her best.
She is mentally described with good results and is completely bulletprof. On her track record she can also write "extra mother" to a bunch of Basset puppies" who were born here in the house 2022. She did that job brilliantly, so we are sure that she will be a wonderful mother to her own litter.
You simply can´t get a better and nicer Ridgeback than Leilo!!
Bowie is a very active Ridgeback, he would love to go on walks all day and doesn't care if it is raining or snowing or if the sun is shining. He loves all dogs, big or small, old or young, neutered or not. Bowie avoids conflict and trouble. When other dogs quarrel, he tries to deescalate the conflict in his easy-going way. He is a Ridgeback just as they are described in the breed standard: "Dignified, intelligent, aloof with strangers, but showing no aggression or shyness".
Bowie is a passionate hunter, but also an equally enthusiastic pulling dog. He really loves to run (probably due to his name) and is happy if we put him in front of the bike or the scooter – as long as he can run. But most of all he loves running on the racing and lure coursing tracks.
At home, he is a true couch potato by contrast. You wouldn't even know he is there most of the time unless he needs to express his opinion that it is time for something to eat.
Dog shows are another great passion we share. For me, showing a dog is collaboration and cooperation between human and dog. The secret of a great presentation is good team work between Bowie and I and ongoing training. Seeing our training recognized and rewarded is even better. Thanks to his excellent conformation and his obvious joy about doing something with me, Bowie is quite often one of the front runners. Showing him is an absolute delight.
Conclusion: Bowie is the perfect companion in all situations and it is a pleasure to both live and work with him and present him in the show ring.